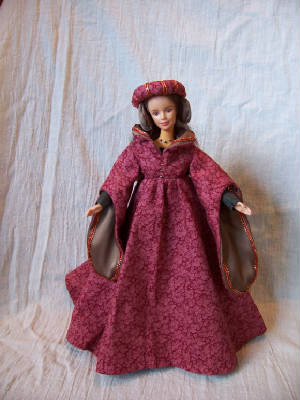 The gown is, from what I can tell in my research, in the style of a houppelande. The pattern says it is from 1420, and my research agrees with this. Roughly the 1300's and 1400's are what I am finding this style (the houppelande, and also this type of headdress) popular in. This type of high collar was called a carcaille.
This dress was (according to the pattern) supposed to have longer sleeves, about floor-length, but I didn't like the look. On such a small scale, and with as thick of a fabric I was using for a lining, it wasn't hanging well. So I turned the sleeve back inside-out and sewed the curve shorter and cut off the excess. (An example of "rigged" solutions.) It was also, according to the pattern, supposed to have a "dagged" (scalloped) edge around the sleeves, but on this size it was recommended to be done with felt (because felt can be cut to a shape and not be hemmed), and I didn't like the idea of using felt on the costume, so I put a thin trim around the inside lining instead. The houppelande did frequently have the near-floor-length sleeves and dagged edges.
It's hard to tell from the picture, but there is a second dress underneath the houppelande, which is necessary to complete the costume. It is very simple in style, basically a type of tunic. The pattern used only 2 cuts of fabric; the sleeves, skirt, and bodice aren't even attached separately.
The headdress is a combination of a bourrelet (padded roll) and cauls (hairnets). The cauls are little pocket-like constructions with a bit of netting over them and stuffed with a tiny bit of cotton (a real caul would have been much different, made to actually hold hair, not simply an illusion). The headdress I have held in place by whipping a few stitches of invisible thread from each of the cauls under her chin.
The necklace I added, is merely 3 "sead beads" tied on invisible thread and tied behind her neck. Matching beads were placed on the front of the bodice.
| | | |
| --- | --- | --- |
| 1. A similar style medieval headdress | 2. Another similar headdress from mid-1400s | 3. A houppelande with long dagged sleeves |